The Education and Training Foundation (@E_T_Foundation) has responded to feedback from the Further Education sector and is running a second 'Learning from 2020 T Level providers' event, following its success in January.
The 'Learning from' events, which are part of the ETF's T Level Professional Development (TLPD) offer, provide T Level practitioners with the opportunity to:
hear about 2020 providers' experiences of implementation and delivery to date
gain insight into T Level assessment and curriculum planning approaches
hear more about the TLPD offer
ask questions and discuss topics.
The event, which will take place on 23 June between 10am-12:30pm, will be chaired by Shelagh Legrave OBE DL, Chief Executive of Chichester College Group and upcoming Further Education Commissioner.
She said: "I am delighted to be chairing the ETF's event on 23 June. T Levels are exciting and innovative new qualifications and our students have really enjoyed studying them this year. For many, they will be brilliant preparation for further study or provide a clear line of sight into work."
Kate Kibler, Regional Head of Engagement in the North, said:
"The 'Learning from' events are an excellent opportunity for T Level providers, both current and upcoming, to listen to the experiences of others and gain valuable insights, hints and tips.
"Given the great feedback following the last event and the calls for more 'Learning from' sessions to run, I urge all providers to book their place now through the Professional Development Platform. Take this opportunity to learn from others and ultimately ensure your delivery of T Levels is a success."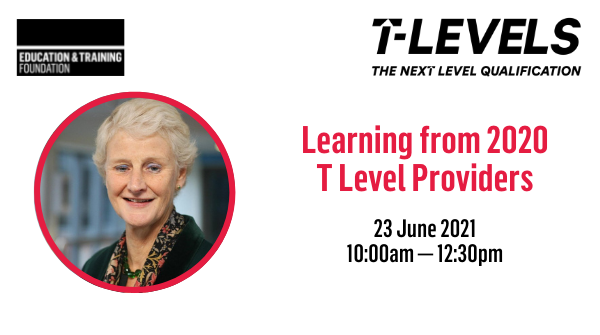 Staff can book onto the event via the Professional Development Platform or contact their Area Relationship and Development Lead for further information.
The ETF, the expert body for professional development and standards in Further Education and Training in England, has been supporting the delivery of T Levels since 2019. In February 2020, the ETF was awarded a four-year contract by the Department for Education to continue to support providers, leaders and practitioners to deliver the new courses.