Today (Thursday 24th June 2021), a group of school leaders are launching a book that shares their experiences of being Black, Asian and minority ethnic teachers and leaders, and the difficulties and barriers they have faced in education.
The book is now being launched at an online event at which the contributors will speak on Thursday evening:
'You Are Not Alone: Leaders for Race Equality' is the personal experiences of fourteen leaders in education from Asian, African, Caribbean and multiple backgrounds. It includes personal and challenging stories of the discrimination faced as both leaders and individuals.
Through school, university, interviews and promotion, the stories show how individuals have often had to prove themselves at every step on the way to leadership and have faced both overt and covert racism from others. It also, ultimately, expresses their messages of hope.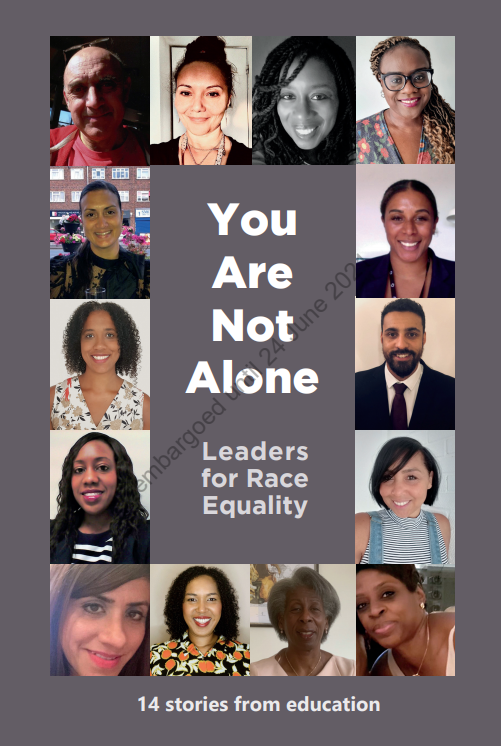 The aim is both to inform those who may not realise how racism is experienced today, as well as to inspire those who might not consider school leadership if they do not see themselves represented.
"Have you ever wondered if you fit the bill? Are you the right (acceptable) colour? Do you speak (acceptably) well? I'm a light shade of brown, olive skin some might say. I speak well, pronouncing my 't's and 'f's correctly. I'm an acceptable shade it would seem. But I know colleagues who have not been afforded the same recognition. Nothing is ever said, of course, but 'best fit' often wins the day after interview."
Diana Ohene-Darko – assistant head teacher of a large London primary school
"One clear example of unconscious bias is the number of times I have turned up to greet a visitor in reception in a suit and tie, and they presume I'm a Teaching Assistant. This has happened to me on numerous occasions, in numerous leadership positions, in numerous schools, in numerous local authorities. I do not know of any White leaders in education who have ever been mistaken for a Teaching Assistant, but do you know how many non-White leaders of education I know who have had the same experience? You've guessed it… numerous."
Ross Ashcroft – head teacher of a special school in Birmingham
Originating from school leaders' union NAHT's first equality network for Black, Asian and minority ethnic members, the book is an personal and authentic presentation of the discussions and experiences shared in the group, intended to help raise awareness and understanding of the issues facing Black, Asian and minority ethnic teachers and leaders, and to offer support and hope to Black, Asian or minority ethnic education professionals aspiring to senior leadership.
NAHT general secretary Paul Whiteman said:
"Discussions within our new Leaders for Race equality network have been extremely candid, powerful and inspiring. It's important that these experiences are heard as widely as possible as there is still a lack of awareness and understanding within the sector. We know that our profession is not yet representative of the communities we serve, and that this is a particular issue at senior leadership level, so I am proud that NAHT can lend its support to amplify our Black, Asian and minority ethnic members' authentic voices. To me, that is a fundamental part of what unions are for, and it is vital that these opportunities are available to all."